Help
The system of notifying about products availability
The system of notifying about products availability is a functionality that allows to control the TME offer products warehouse changing status.
Two types of notifications are available:
a single notification when the warehouse inventory reaches the level of a complete order
multiple notification when warehouse inventory is increasing, but the quantity does not satisfy order needs. Notifications are sent until warehouse inventory completely covers the order.   
Notifications can be activated from the following level: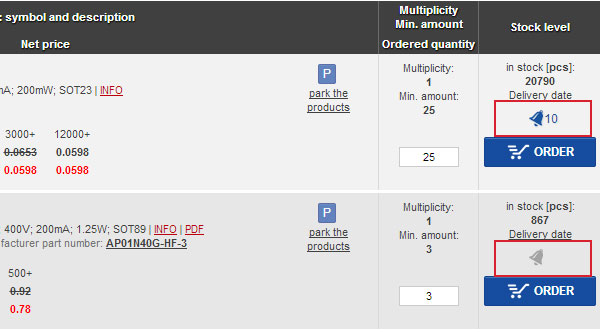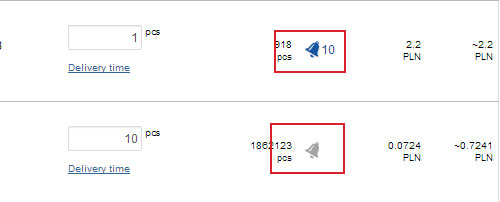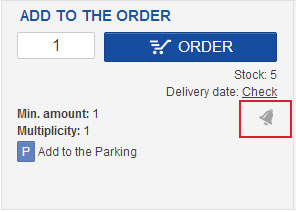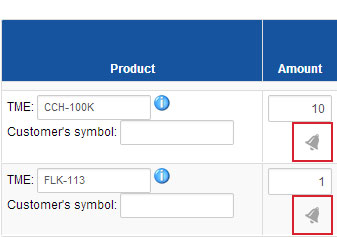 cart (in a situation when a product, which is out of stock, is removed from a cart while placing an order)
In order to activate notifications, a "bell" icon should be clicked – it is located next to a product, enter requested amount and approve the selection by clicking "save" button.  
If the notification is to be sent with every increase of warehouse inventory, then during its activation tick the checkbox.  This type of notification is active until warehouse inventory completely covers the order.
All information concerning active notifications can be found in "Notifications" panel, available after logging.  
Notifications settings can be freely modified. It is enough to click ordered quantity, make changes and then confirm them with a "save" button.  
Functionality can be deactivated:
in the panel, tick a checkbox next to a given product, and then click the "Delete" button,
in the catalogue, Quick Buy, parking or on the product page after clicking notifications icon and pressing "Delete".
In order to deactivate the message with a proposal to add notification while removing items which are out of stock from the cart, just press the button "Cancel and don't ask again".

This message can be re-activated by selecting proper option in the notifications panel.

In the notifications panel there is an option to filter products by:
TME symbol,
Customer symbol,
manufacturer's designation,
manufacturer's name,
product description.
Notifications are sent to the email address of the logged person. It can be found in the panel  "Your account → Contact data".