Photographs and films that we create for our own or professional needs require space for storage and real-time recording capabilities. This is the role of memory cards, which are a data storage, diverse and adapted to the needs of the equipment. Proper choice allows you to take full advantage of the hardware capabilities and minimize the costs of data carriers.
Types of memory cards
Although all cards have a similar application, manufacturers differentiate them both in terms of the needs of users and devices in which they are used. Therefore, getting acquainted with the equipment (camera, phone or other device) should be the first and the most important step while choosing memory card. It depends on manufacturers of electronic devices where and what type of cards will be used. A rare solution are devices having sockets dedicated to many types of memory cards.
The most important information about Compact Flash memory cards
Compact Flash cards with size of 42.8x36.4mm and thickness depending on the type are dedicated to professional cameras. In their case, the leading parameter is the speed of data writing. Compact Flash I cards have thickness of 3.3mm and capacity of up to 64GB, while Compact Flash II cards have thickness of 5mm and capacity of 8GB. The speed of data writing for both types of cards is 133MB/s, there are also CFast cards with increased speed (300MB/s).
What is there to know about Secure Digital (SD) memory cards?
Secure Digital cards are mostly recognized by the short name of the SD card. They are dedicated to electronic equipment that supports cards of a certain size. The mini and micro SD are often intended for mobile devices. The size is therefore the first feature that distinguishes Secure Digital from CF cards. They exist in three variants: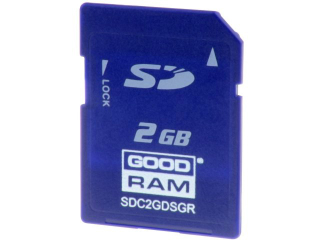 Secure Digital with size of 32x24x2.1mm;
miniSD with size of 21.5x20x1.4 mm;
microSD with size of 11x15x1 mm.
SD cards according to the designation have been assigned a specific capacity determining the size of files to be recorded. Traditional SD cards often do not exceed capacity of 2GB. It does not mean, however, that this is their maximum capacity, because there are cards available with much higher capacity, such as SD high capacity cards, storing 32GB of data and SD extended capacity cards (SDXC) that can reach a capacity of 2TB. A characteristic feature for the smaller versions of the card - microSD and miniSD is the adapter that restores their size to the size of SD cards. The user can find the speed described by the class, UHS data bus or video class created for people focusing primarily on the video recording quality.
Second class cards (Class 2) have data transfer of 2 MB/s
Fourth class cards (Class 4) have data transfer of 4 MB/s
Sixth class cards (Class 6) have data transfer of 6 MB/s
Tenth class cards (Class 10) have data transfer of 10 MB/s
Data bus UHS-I (U1) with speed of 10 MB/s
Data bus UHS-III (U3) with speed of 30 MB/s
Sixth video class (V6) with minimum write speed of 6 MB/s
Tenth video class (V10) with minimum write speed of 10 MB/s
Thirtieth video class (V30) with minimum write speed of 30 MB/s
Sixtieth video class (V60) with minimum write speed of 60 MB/s
Ninetieth video class (V90) with minimum write speed of 90 MB/s
Memory cards on TME offer
The TME offer among computer accessories includes Secure Digital (SD) cards, used in most electrical devices, as well as professional Compact Flash cards, dedicated to digital cameras. In addition, some of the cards intended solely for industrial use have also been distinguished. The TME offer is based on Goodram memory cards and SanDisk cards. An intuitive search engine, using parameters assigned to products, allows you to find a device that will meet the user's expectations.