UPS units allow the device to be shut down in a secure manner, while protecting key data against sudden power failure. Unexcepted power shortage, as well as voltage dips or brownouts, may lead to the loss of the contents of your HDD or damage the components, ultimately causing irreversible changes or losses.
Using emergency power supply units
UPS units are used in powering sensitive automation and control components, workstations, technological process managements centres, or for industrial data processing.
Classification of UPS units
Even though the topic of Uninterruptible Power Supplies is relatively fresh, it is dominated by foreign distributors who have conquered the global market by providing readymade solutions. Leaders in this sector are i.a. Eaton Power Quality, Cyber Power System, or APC.
However, this does not mean that global leaders have completely blocked the growth of Polish companies both on the domestic and international market. When looking for Polish suppliers, pay attention to e.g. Ever or Qoltec, whose products are available at TME on an ongoing basis. Broadly understood industry includes sectors using emergency industrial power supplies with the power ranging from a few VA to over a dozen kVA, and with the running time of a few minutes. The division of available products depends on the adapted typology of energy conversion.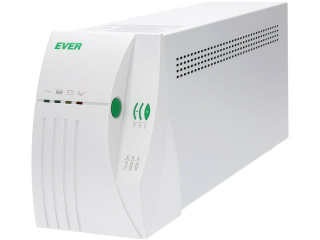 Offline UPS units
The basic group contains offline devices from 400 to 1,000VA, ensuring elementary level of security, usually by monitoring input voltage. More advanced devices can additionally be equipped with interference suppressors. Despite that, the time required for starting-up backup powering is relatively long and lasts up to 100ms, which means that more sensitive equipment will turn off. Simple construction of offline UPS units makes them the cheapest group of products.
Line-interactive UPS units
Another group of UPS units, using the line-interactive technology, is most widely spread among consumers. In terms of construction, they are based on offline UPS units, but due to certain modifications, they also control the frequency and supply voltage, as well as phase angle. Switching is fast and synchronised with the power grid. Using the AVR automatic voltage regulator extends voltage range in network mode.
Online UPS units
The most technologically advanced group comprises online UPS units, which operate within the range of 10 to 200kVA, depending on the model. In the case of these power supply units, the double conversion of supply voltage makes the output voltage completely independent from the incoming utility power. This series of UPS units ensures galvanic separation from the power grid, completely eliminating any noise. A distinctive feature of this constriction is the continuous operational mode of the inverter and the rectifier, which in case of power shortage ceases to charge the battery. Advanced construction and ideal sine wave voltage are reflected in the price, and make these the most expensive solutions on the market.
UPS units in industrial applications
The parameters of UPS units are adjusted to user requirements, and the operating time is determined based on the nature of the load. Typically industrial devices are characterised by high active power consumption, therefore despite their simple construction, power supply units dedicated to such devices are resistant to frequent heavy in-rush currents. Whereas transformer-based units offer galvanic separation of loads from the grid and the batteries. Factors that should be considered when selecting a UPS unit include:
the power of the loads
the length of battery backup supply period
short-circuit protection (ca. 5s for industrial devices)
resistance to inverter overload of 200% of rated current for 30s.
It should be noted that due to their capability of voltage conversion, UPS units are suitable for various voltage values, as well as for 110 and 220V central batteries.
The future of UPS units is open, and currently manufacturers focus on extending the run time and increasing the upper limit of operating range. The growing adaptation of supply units in sectors that did not use any solutions for emergency data saving in the past, presents opportunities for growth and gives impulse to spur further research.
If you plan to purchase a UPS, you should focus your attention on specification parameters, such as charging time, power, or number of batteries as a factor directly impacting operational time. Using parameter filters at TME webpage, you can easily choose the correct power supply unit.