Electronics is a field in which precise measurements of various physical quantities play a particularly important role. Their accuracy depends on a number of factors, sometimes even such trivial ones as the quality of sockets, banana plugs or test leads. That is why professionals use products of specialized brands. In the case of measuring accessories, this would be Schutzinger.
Schutzinger – brief history
Schutzinger was established in 1951. The company has a global reach, but at the same time remains to be a family business. It specializes in the design and manufacture of accessories for electrical measurements. They are developed in the company's laboratories, where engineers take care of the quality, durability and precision of branded products. In addition to sockets and plugs, these include test leads, probes, clip-on probes, crocodile clips, laboratory clamps, as well as shelves and hangers for accessories. These products are dedicated to professionals and universities, as well as to demanding amateurs.
The TME catalogue includes over 700 products by Schutzinger. Below, you'll find their overview. We would also like to remind you that you can order them directly from our warehouses.
Discover products by Shutzinger available in our catalogue »
Kelvin system
The name of this series of products refers to the aristocratic title "lord Kelvin", which was given to a British scientist, Sir William Thomson. In his scientific work, Sir Thomson developed the so-called Thomson bridge. The principle of this circuit allows to perform measurements of very low resistances. This happens by minimizing the resistance of test leads..In digital multimeters resistance measurement is usually performed by means of phenomena described by the Ohm's law. After the probes are applied, a constant and known current (I) starts flowing through the tested object. The resistance of the object causes a voltage drop (U), which is measured with a voltmeter. On this basis the multimeter calculates a resistance that is equal to the U/I quotient.
Most often, the current source and the voltmeter are connected in parallel and then, using two leads, in series with the object to be measured. Such an ohmmeter is easy to build and use – it only requires two probes. Unfortunately, in the circuit of the instrument, the resistance of the measurement wires is summed up with the resistance of the tested object, and thus contributes to the voltage drop, which leads to "falsifying" the measurement. When very low resistances are measured, this factor makes it impossible to obtain a precise result.
The four-terminal sensing (also called 4W and 4-wire) involves the use of four test leads. The first pair supplies current, the second pair is used to test the difference in potentials between the selected points (i.e. on the tested object). The current intensity in the measuring circuit is marginal because it is limited by the high, mega ohmic input resistance of the voltmeter. The voltage drop caused by the resistance of the leads can be considered insignificant here. The voltmeter's indications are mostly influenced by the difference of potentials at the extremities of the tested object, because a relatively high current flows through the object. The measurement is very accurate. Therefore, this method is used, among others in the manufacture of precision temperature sensors and solid-state components.
Making a four-point sensing can be facilitated by the Kelvin system manufactured by Schutzinger. It is based on connectors that are compatible with 4mm banana plugs. The difference is that two (instead of one) independent contacts are inserted into the sockets. In our catalogue, you will find not only the sockets, but also Kelvin system compatible cables terminated with a probe (in the form of a crocodile or pincer). At TME, customers can also order a set of leads with an adapter equipped with laboratory terminals and banana plugs.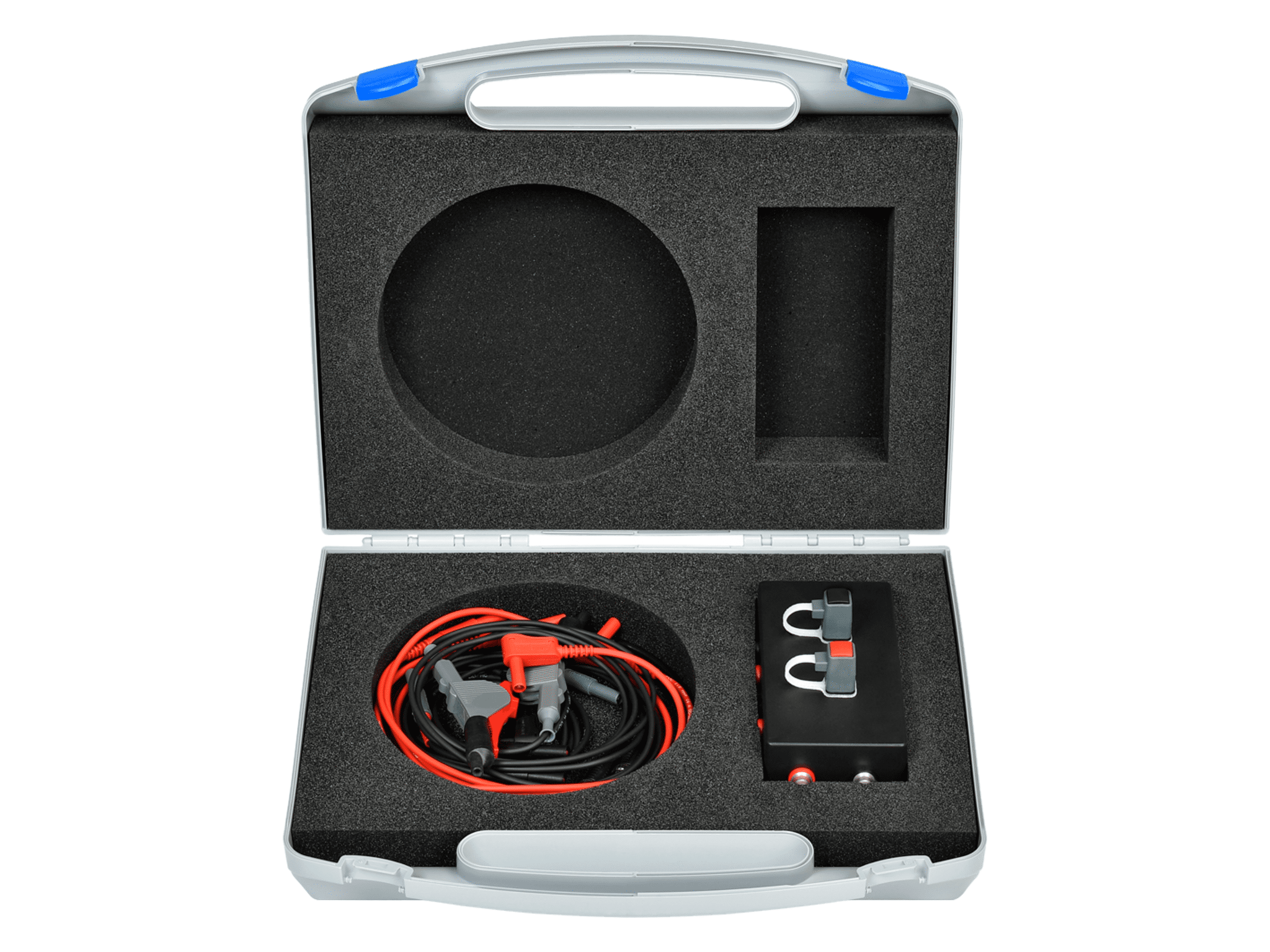 Discover Kelvin products available in our catalogue »
Schutzinger measuring equipment accessories
The offer of the German manufacturer includes several groups of accessories for measuring equipment, which we present below. Parameters of individual solutions can be found in our catalogue, where we provide full specification and catalogue cards of all products.
Test leads
The IEC/EN 61010-031 standard, established by the International Electrotechnical Commission (IEC), dictates global standards for measuring accessories. According to the standard, it is necessary to double or strengthen the insulation of the measuring wires. Schutzinger is committed to meeting IEC standards. Cables with the label of this German brand guarantee operating safety. Most of them are equipped with 2 and 4mm banana plugs.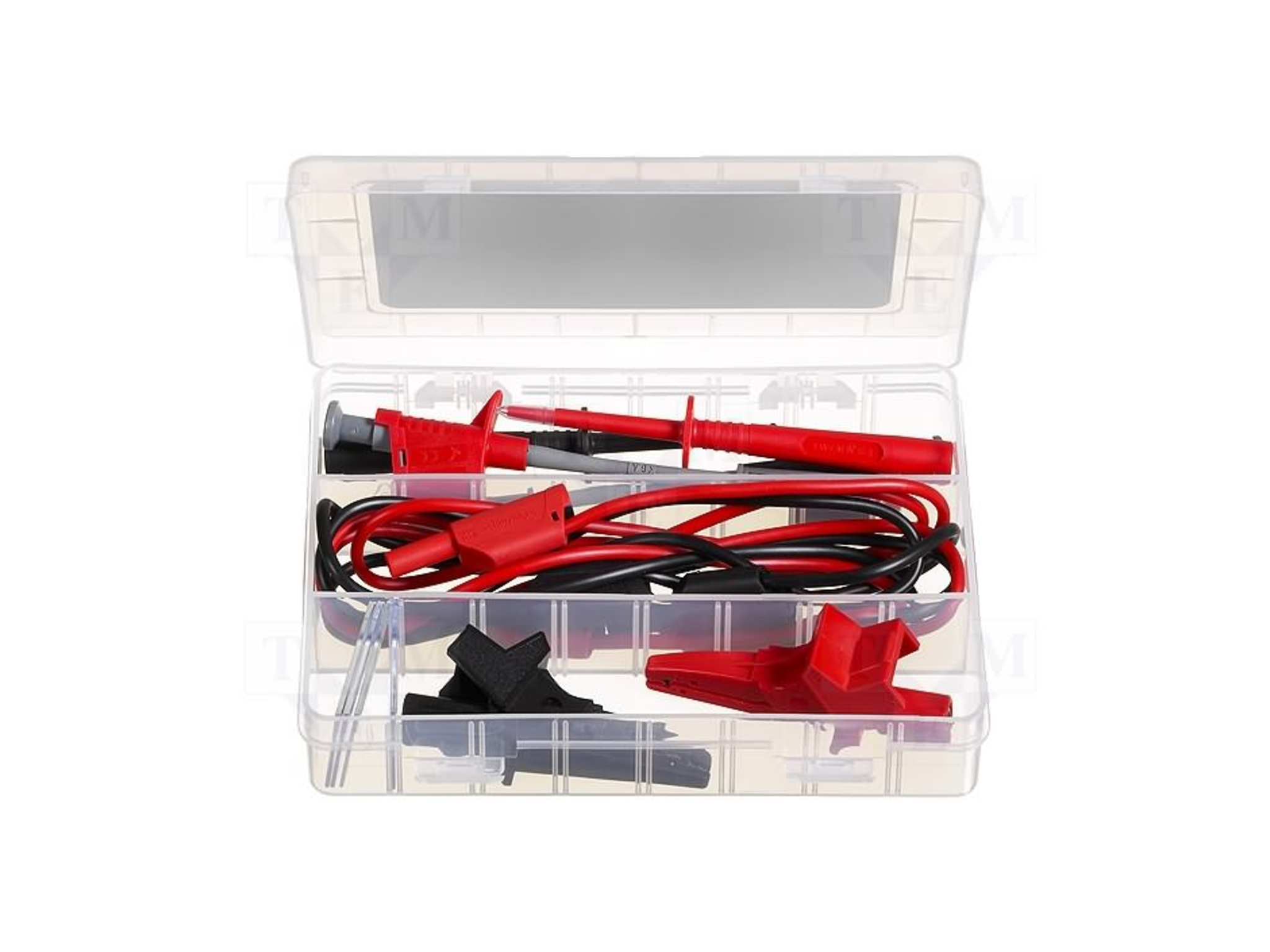 Test leads up to 6kV*
When it comes to test leads, products designed for measurements in high voltage circuits (up to 6kV AC or DC) deserve a special mention. Their features include silicone insulation, nickel-plated contacts with low resistance (max. 5mΩ) and high thermal resistance (up to 90°C).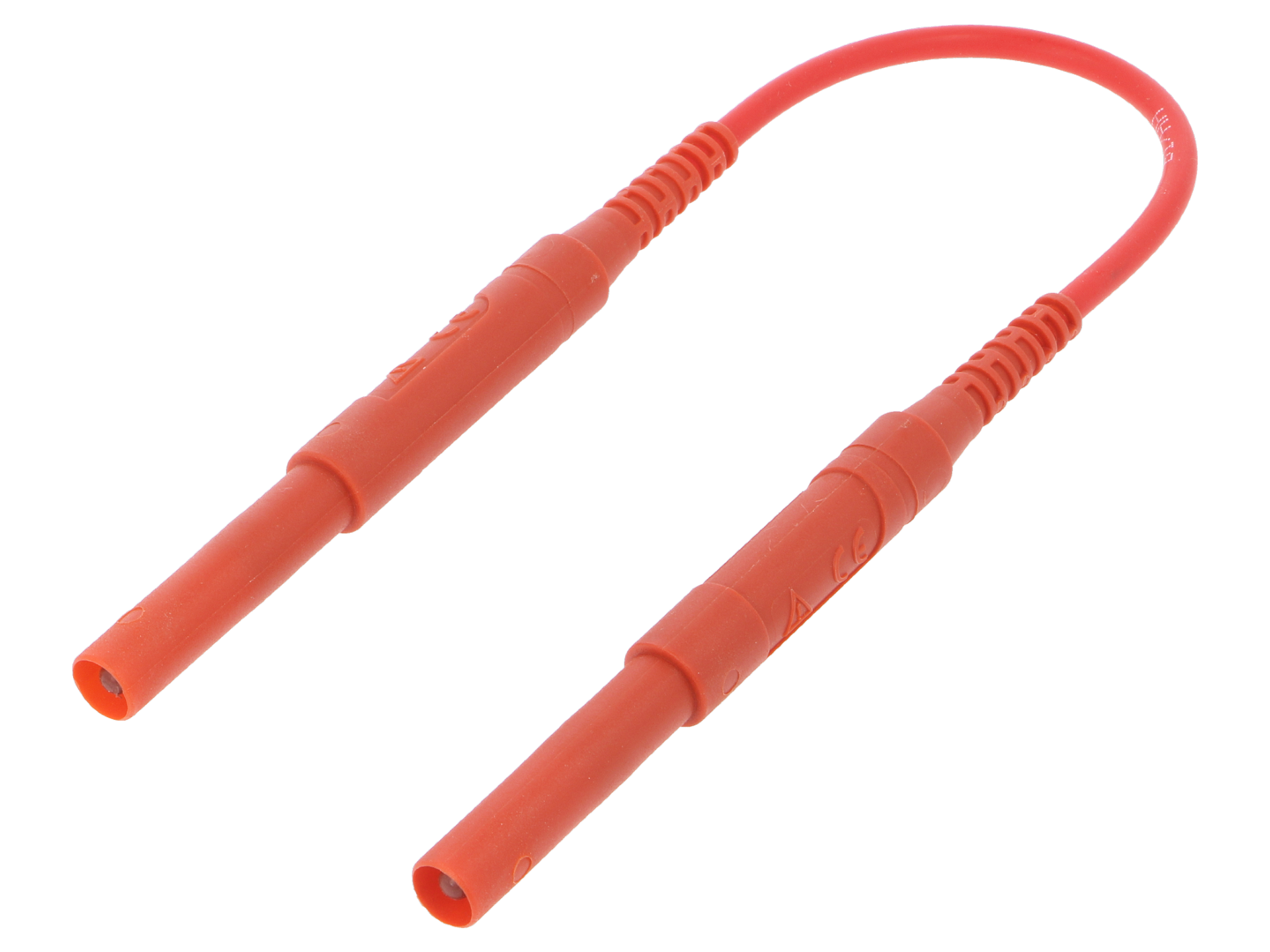 Test probes
Popular probes by Schutzinger include probes designed for specific areas such as electrical engineering or precision electronics. Among them, magnetic probes are worthy of mention. They are ideal, for example, for multi-point measurements during inspection and maintenance work in machine parks. In our warehouse, we also have protective caps for probes.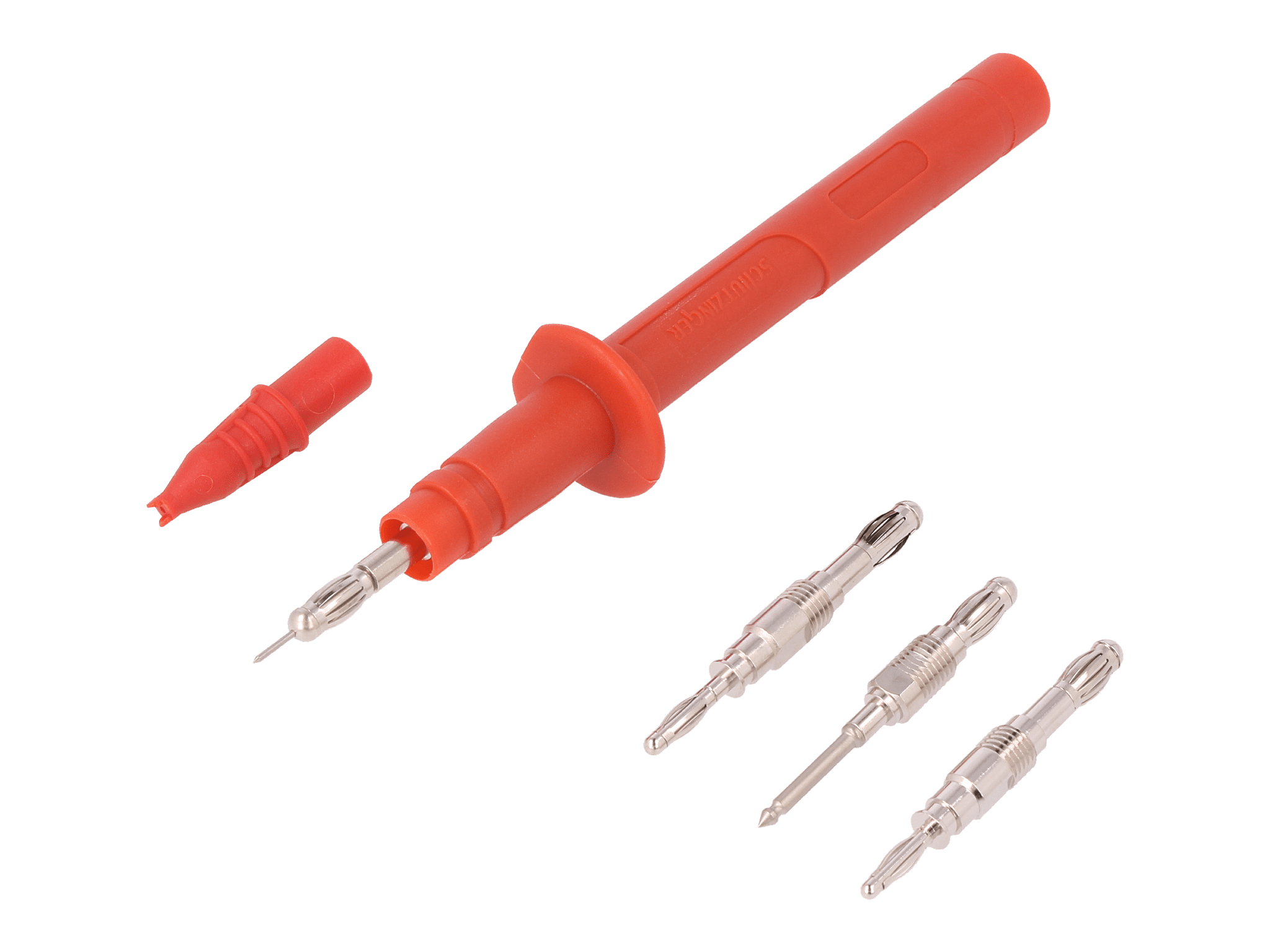 Banana plugs and sockets
Commonly used banana connectors with diameters of 2mm and 4mm. Depending on the needs, our customers can purchase sockets designed for mounting on a panel, cable, PCB, as well as with M8, M10 and M12 threads. More than three hundred types of banana plugs are available, with nickel-plated and gold-plated contacts as well as with a transverse socket.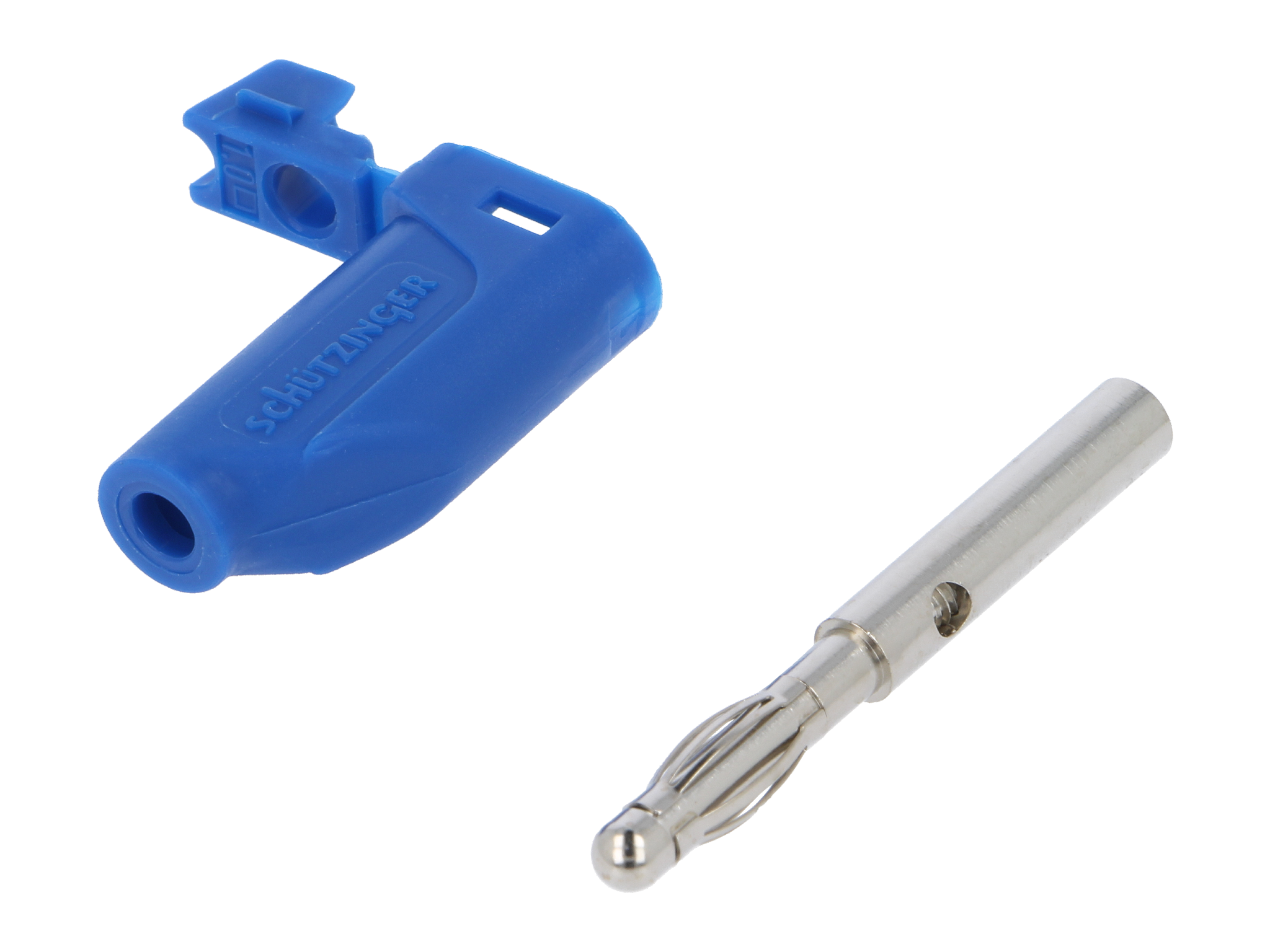 Clip-on probes and laboratory clamps
In this field, Schutzinger also offers its own, proprietary solutions. That is why selected crocodile clips of this brand, even small ones, allow for the measurement of high currents of up to 36A. The same goes for the clip-on probes from this German manufacturer. Available products include those characterized by durability and resistance to high voltages – but also precise models that can be used for example for repair and maintenance of electronic devices. The clip-on probes are available in popular variants: puncturing point, pincer, crocodile and hook.