Today, electronics plays a very important role in medicine. It is used in diagnostics, prosthetic implants, devices supporting heart, breathing and other important functions of the human body. Most of the achievements of modern medicine would not have been possible if it wasn't for the electronic devices and a wide range of precise measurements of the human body. As technology advances, the role of electronics in medicine will certainly grow, and with it the need to ensure patients' safety.
The safety of medical devices is ensured mainly by compliance with the standards developed for these devices. At times, the requirements imposed by them may seem exaggerated, but it must be remembered that it is not uncommon for such devices to be attached to the body of an unconscious patient who will not be able to cope if, for example, the probe overheats, its insulation damages or in any other way threatens patient's life and health.

In addition to numerous national or company standards, there are international standards, the most important of which is IEC/PN/EN 60601. This includes a set of requirements for electrical and electronic equipment used in medicine. Although IEC 60601 was published about 40 years ago, it continues to keep pace with industry developments. In this text we will look at some of the key issues described by IEC 60601 in relation to power implementation as well as some new requirements, such as the need for risk assessment. In addition, practical ways to achieve compliance, such as support for manufacturers of medical devices, will be examined.
Basic safety requirements
One of the key safety issues with respect to medical devices is the fact that the patient is electrically connected to the device. Conductive electrodes of an electrocardiograph are a good example of that. In IEC/PN/EN 60601 they are defined as "conductive parts" (AP) and are an important definition within the standard when defining the general requirements of a medical product. Medical devices must contain at least one means of protection (MOP) to ensure that both the patient, if connected via an AP, and the operator are protected against the risk of electric shock, even in the case of failure. MOPs may be achieved by safety isolation, protective earthing, air gap, the use of components providing protective impedance, or by using a combination of these techniques.
In the standard, operators and patients are treated differently, and the means of protection are differentiated according to the following classification: MOOP – "means of operator protection" and MOPP – "means of patient protection".
| Classification | Breakdown voltage | Separation | Insulation |
| --- | --- | --- | --- |
| MOOP | 1500 Vac | 2,5 mm | Basic |
| 2×MOOP | 3000 Vac | 5 mm | Double |
| MOPP | 1500 Vac | 4 mm | Basic |
| 2×MOPP | 4000 Vac | 8 mm | Double |
Definitions of MOOP and MOPP according to IEC/PN/EN 60601
One of the reasons for this differentiation is that the patient may be physically connected through the AP and be unconscious when a malfunction occurs. Because of this risk, the requirements for MOPP are more stringent. Each term is defined in respect of insulation breakdown voltage, current leakage path and insulation level.
Evolution of the standard
IEC 60601 has evolved with the development of technology since its first publication almost 40 years ago. It has also been transferred to the European market as EN 60601, as well as introduced in Poland as PN 60601. Power supplies and modules used in instruments are not medical devices themselves, so the standards defined in IEC/PN/EN 60601 do not apply directly to them. However, manufacturers of medical devices would not be able to achieve compliance with the standards without power supply solutions designed for applications in medical devices.
Until recently, medical devices were only used in specialised medical facilities such as hospitals and clinics. These institutions have provided filtered, properly protected and separated circuits designed to power sensitive medical devices. Nowadays, more and more often care is provided in patient's home, where mains power is shared with other devices, often deteriorating the quality of available electricity, and it is difficult to talk about the availability of a "perfect" power source in this situation. In addition, other devices, such as Wi-Fi access points, mobile phones, microwaves, washing machines and other commonly used equipment work in the same environment. This makes such issues as electromagnetic compatibility (EMC) very important. For this reason, the latest version of the standard (Edition 4) changes the test procedures and acceptable disturbance levels for EMC.
Another significant change was the introduction of the requirement to carry out a risk assessment in accordance with ISO 14971. Risk management is seen as a key element in demonstrating compliance with regulations for medical devices, and ISO 14971 defines the best practices at all stages of the life cycle of medical equipment. In addition, the Medical Devices Directive increases compliance restrictions by requiring manufacturers to implement a Quality Management System (QMS) in accordance with ISO 13485. The basic requirement is that an organization (such as a power supply manufacturer) should be able to demonstrate its ability to consistently meet customer requirements, quality and safety standards.
A standard approach to achieving compliance with IEC/PN/EN 60601 is to use an AC/DC power supply that is approved for medical use. Applications with a BF rating also require the AP to meet the 2×MOPP classification. Many AC/DC power supplies available on the market do not meet the requirements of 2×MOPP and are not suitable as a stand-alone solution for applications where BF compliance is required. In such cases, a DC/DC converter complying with IEC/PN/EN 60601 2×MOPP will provide BF compliance for the AP. Another typical example includes medical devices that have a battery back-up power supply, which must meet the requirements of 2×MOPP during a power failure (loss of supply voltage).
Medical devices often require many supply voltages necessary for analogue and digital circuits, displays and other components. Usually, these voltages are significantly different from the main AC/DC power supply or mains voltage. In order to avoid the need to purchase or develop a custom AC/DC power supply, you can obtain the voltages to power your equipment by combining the required number of IEC/PN/EN 60601 compliant DC/DC converters with a typical AC/DC power supply rated to ITE 60950.
The basic requirements for 2×MOPP are an insulation breakdown voltage of 4000 VAC, a distance between circuits supplied with different voltages of at least 8 mm and reinforced double insulation. Most commercially available DC/DC converters (including those with EN 60950 certification) have insulation from 500 VDC to approximately 1600 VDC and are therefore not suitable for medical applications. However, there are specialized DC/DC converters available that will meet the requirements for APs when used in conjunction with standard ready-to-go power supplies.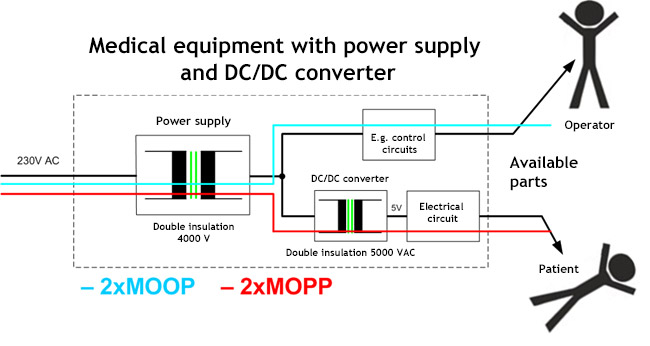 Medical device block diagram
With insulation up to 5000 VAC, double insulation, 8 mm spacing and power supply through a galvanically separated transformer, the DC/DC converter can still protect the patient in the event of a main AC/DC power failure and avoid the risk of mains voltage occurring at any point in the patient's AP.
Extensive product range
At the heart of Traco's approach to providing world-class power solutions for medical devices is the technology of manufacturing transformers. It has been refined over a long period of time to provide the required galvanic separation and insulation strength. At the same time, it allows for effective feedback so that the DC/DC converter operates reliably and efficiently. An important aspect of the protection is the small capacity between primary and secondary transformer windings. Thanks to the unique transformer manufacturing technology, it is 10...15 pF, which guarantees only a negligible current flows through the insulation barrier and provides patient protection in accordance with IEC/PN/EN 60601.
Traco's ISO 13485-compliant quality management system guarantees product quality. It covers the design and manufacturing processes, as well as further practices beyond the requirements of the standards, which ensure high levels of product quality and safety. Industrial grade components are selected for Traco products. They ensure proper quality, durability and reliability of the final product. As a result, components intended for use in IT equipment, for example, are eliminated from the products by Traco's internal policies. The quality of products is in accordance with the international standard IPC-A-610, under which Traco operates at level 3, i.e. the highest level of manufacturing quality. This allows Traco to offer a 5-year warranty on certain products.
As a manufacturer of power solutions and not of medical devices, Traco is not obliged to provide risk assessment data. Nevertheless, Traco provides its customers with risk assessment files in accordance with ISO 14971, which cover key areas such as insulation damage, reversed polarity, fan failure effects, flammability, mechanical shock and more. Providing this data contributes significantly to facilitating the risk assessment of customers' final medical products, saving time and costs during the design process.
Traco offers AC/DC and DC/DC converters for medical applications that meet 2×MOPP requirements. They also comply with EMC requirements and IEC/PN/EN 60601-1 (4th edition) and are suitable for all patient-attached medical devices and application parts (BF compliant). The range of AC/DC converters includes small 5 W power modules for PCB mounting, a wide range of open frame medium power solutions and power supplies for enclosures up to 450 W. All of them have a universal input voltage (85...264 VAC/120...370 VDC) and active power factor correction (PFC) at over 100 W. The product range includes single, double and triple output inverters that meet all the requirements for analogue or digital circuits.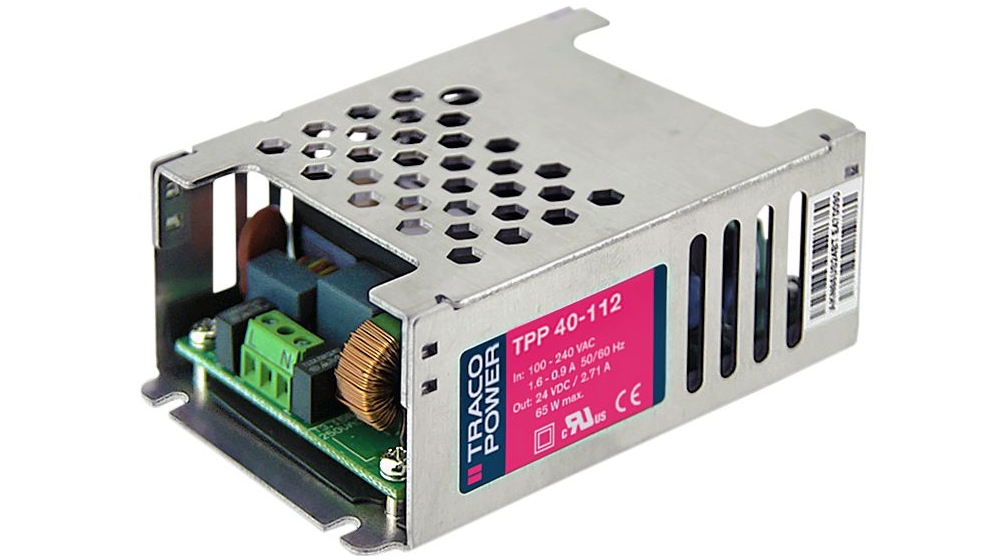 TPP 40 series open frame inverter
Traco's range of DC/DC converters includes 2 W to 30 W modules for PCB mounting.
The units offered have an input to output voltage ratio of 2:1 or 4:1. Available options include modules supplied at 5, 12, 24 or 48 V nominal voltage. Single and dual output voltages from DC 3.3 to ± 15 V are also available.
All Traco DC/DC converters approved for medical devices provide 5000 VACrms, I/O insulation, which is suitable for 250 VACrms supply voltage. This, with a leakage current of less than 2 μA, makes them ideal for use with typical AC/DC power supplies in medical devices.
THM 15 series converter for PCB
Summary
The market for medical devices is growing and evolving rapidly, and current standards such as IEC/PN/EN 60601 are constantly changing to keep up with it. The ultimate responsibility for ensuring the safety of patients and operators of medical devices lies with the manufacturers, but thanks to cooperation with experienced manufacturers and power system designers, those risks can be significantly reduced. With Traco products, medical device manufacturers have access to high quality, reliable and safe products, as well as comprehensive and competent support for compliance with applicable medical standards.