Pneumat System is a leader of the Polish industrial pneumatics market with over 40 years of experience. It is appreciated by customers for the high quality of its products, as well as for its consulting services and design expertise. Pneumat System, apart from self-manufactured pneumatic cylinders and gas springs, offers a full range of components and equipment for pneumatics, hydraulics and vacuum technology. Thanks to this, the brand is able to fully satisfy customers' requirements. Pneumat System's products are available from TME and they are delivered directly from our warehouses.
Pneumatic fittings
An indispensable component of every pressure and vacuum automation application are pneumatic fittings, tubing and hoses. These products from Pneumat System could not be missing from the TME catalogue.
The most popular series of fittings is the universal BLUELINE series characterized by high resistance and flexibility, dedicated for compressed air/vacuum installations up to 15 bar. The BLUELINE series is designed for quick connection of plastic air ducts, it is characterized by impact and abrasion resistance.
Key features of the BLUELINE series fittings:
made of PBT and nickel-plated brass;
types: straight, angular, feed-through, T-shaped, Y-shaped;
thread: M5, G1/8", G1/4", G3/8", G1/2";
hose diameter: 4mm, 6mm, 8mm, 10mm, 12mm, 14mm, 15mm, 16mm;
NBR sealing;
operating pressure: from -0.95bar to 15bar;
operating temperature: from 0°C to 60°C.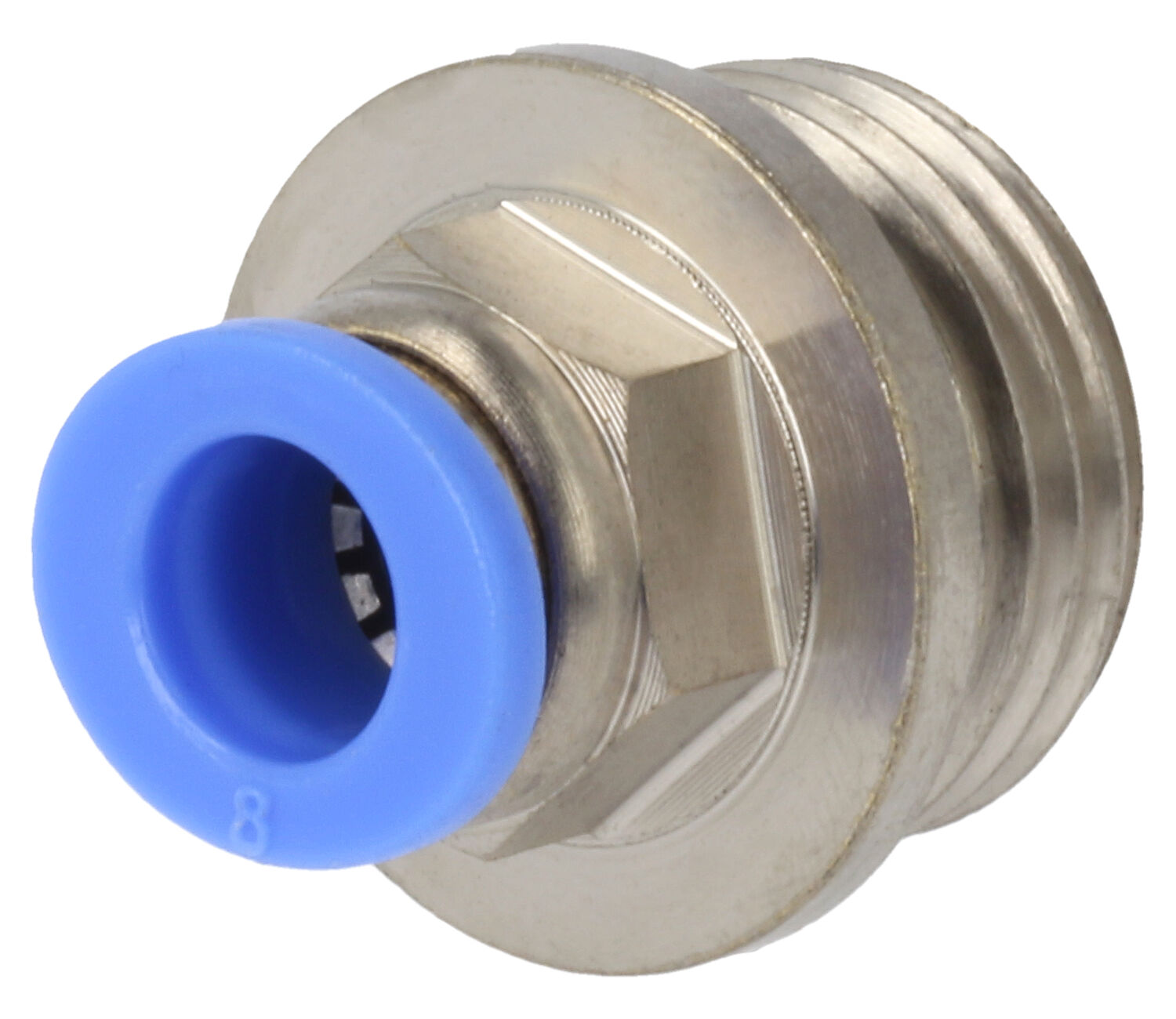 Straight pneumatic fitting with ½'' thread.
Pneumatic tubing
Pneumat System also provides a wide range of pneumatic tubing made of polyamide, polyethylene, polyurethane and PVC/SBR. They are suitable for almost any type of application, depending on the pressure, temperature and medium used. The most popular Economy series is available in 25m reels with an outer diameter of 4mm, 6mm, 8mm, 10mm, 12mm. The GOL BLUE series, designed for applications with a maximum pressure of 30 bar, is available in lengths starting from 1m, with external diameters of 11mm, 14.5mm, 19mm, 26.5mm and 33.5mm.
Key features of the Economy series, depending on the material:
polyamide – high durability, operating temperature -10...80°C, suitable for compressed air, oil, grease, fuel, hydraulic oil and salt solution;
polyethylene – good resistance to chemicals, operating temperature -10...60°C, suitable for compressed air;
polyurethane – very flexible and wear-resistant, suitable for compressed air, fuel and oil;
PVC/SBR – flexible rubber tubes reinforced with polyester mesh, resistant to bending, weather conditions and chemicals, operating temperature -15...60°C, suitable for compressed air and water, typical applications include powering pneumatic tools.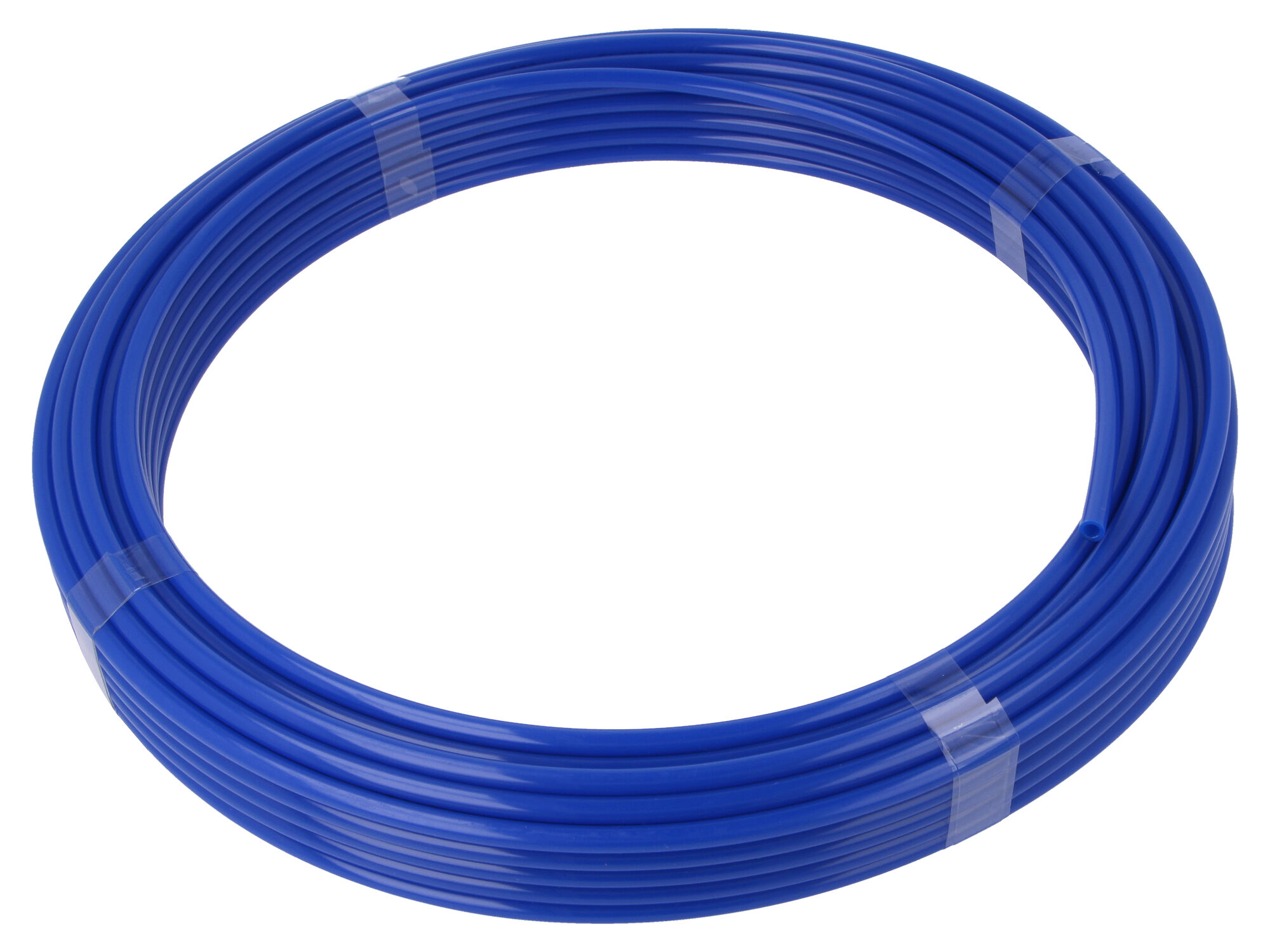 An example of pneumatic tubing by Pneumat System.
Hoses with quick-fitting connectors
Pneumat System also offers entire spiral air hoses with quick-fitting connectors. Their best example is the Classic series made of polyurethane. Designed for quick connection of pneumatic tools, e.g. in the automotive or furniture industries.
Features of the Classic series hoses:
connection: NW7,2 quick-fitting connector / NW7,2 stub-tube;
hose external diameter: 8mm or 12mm;
length: 5m, 10m, 15m;
operating pressure up to 10bar;
operating temperature from -20°C to 70°C.
Fittings and tubing by Pneumat System