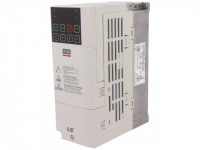 LS INDUSTRIAL SYSTEMS – formerly known as LG Industrial Systems, is a Korean manufacturer of power equipment.
TME's range of products on offer includes S100 series inverters available in a single-phase version for 0.4kW, 0.75kW, 1.5kW, 2.2kW applications, as well as in three-phase version for applications ranging from 0.4kW to 18.5kW. The S100 series has been significantly modified in terms of dimensions in comparison to the previous one (IG5A). In addition, the insulation characteristics of the new series allow the inverters to be installed next to each other, without the need for clearance between devices, which saves space in the control cabinet or on the mounting plate.
LS Industrial System S100 inverter
The S100 series inverters provide the user with a wide range of configuration options, which makes them a perfect and versatile solution for most industrial applications.
Click and discover the S100 series inverters by LS Industrial System available in our catalogue.