About products
2020-02-25
Q2V series compact inverters by OMRON



New Q2V series compact inverters by OMRON are now available at TME.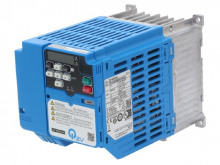 Their greatest advantages include easy programming using free PC software (Q2Edit, Q2Dev) or an Android mobile device (Q2App).
Q2V inverters combine the ease of installation and operation with highly efficient control of various motor types (asynchronous induction, permanent magnet, synchronous reluctance). They have a built-in EMC filter and STO (Safe Torque Off) function. Fast installation of the cabling is ensured by screwless signal output terminals.
Discover the Q2V series products available in our catalogue »
The versatility of the new inverters is guaranteed by the scalar mode (pumps, fans) and vector mode operation, open-loop feedback, as well as the possibility to use the same inverter to control motors with different ratings, depending on the load characteristics (Heavy Duty, Normal Duty). The new series also includes a range of dedicated Q2V accessories, including optional EtherCAT, Ethernet/IP, Profinet and PowerLink communication cards and a portable LCD display.
| | |
| --- | --- |
| Power supply | single-phase or three-phase |
| Inverter output voltage | 3 x 230V AC or 3 x 400V AC |
| Mounting | wall-mounted |
| Electrical connection | screw clamps or spring-loaded terminals |
| Nominal current | from 0.8A to 60A |
| Protection | instantaneous voltage drop, overload, overheat, voltage drop, voltage rise |