About products
2020-04-21
MEDID measuring tools, knives, cutting and grinding discs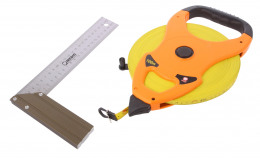 MEDID was founded in 1932. Since the beginning of its activity, it has specialized mainly in the field of measuring tapes and tools, being a pioneer in the production of these products in Spain.
MEDID measurement tools available at TME
The TME catalogue now includes a wide range of products by MEDID. Apart from measuring tapes (up to 100 meters long), there are try squares, adjustable try squares, including models equipped with a hat, as well as spirit levels with an angle measure and folding rules. You will also find an odometer in our catalogue. Moreover, there is another group of this manufacturer's products, namely tools such as knives, cutting discs and grinding discs..
Discover the full offer of MEDID solutions available at TME.