Events
DIN rail DC/DC power supply units
Every electronic device requires power. However, power source requirements differ between applications. In industrial automation, building automation and some other applications, power supply units designed for DIN rail mounting can be particularly interesting. They can prove to be not only a cost-effective, but also the most professional solution.
Different types of electronic devices require different power supply voltage levels. 12VDC and 24VDC voltages are most commonly used in automation, but some IoT devices only require 5V. All those voltage levels are achievable with DC converters mounted on DIN rails. In this article you will learn when to use those converters and discover sample products.
Great power, small space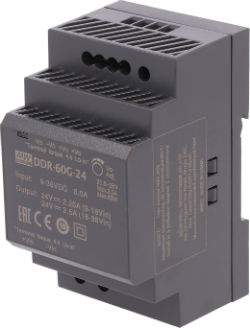 We should point out that the power supply units described in this article will not be the ideal solution for every single project. One of their key advantages is their compact size, but this does not mean they are recommended only for small devices. They actually work best in large systems that oftentimes have limited space for installing converters.
DIN rail mounted power supply units (TS-35) are designed specifically for those situations when you don't have a lot of space available but you need to ensure reliable conversion of high power. They are small and have a standardised mounting method. This means they can be mounted right next to each other or in close proximity to programmable drivers, telecommunications equipment, and even certain industrial computers. They can supply power to their surrounding devices as well as to hardware spread across an area. They can be used as internal modules of machines or external power sources.
A significant advantage of DIN rail mounted power supply units is their excellent workmanship quality, required due to their design for industrial applications. Despite being small, these units are designed to operate silently – with passive cooling. This also means they do not emit any interference that would be caused by fans. Due to the fact that they operate in close vicinity to equipment that is sometimes extremely expensive, they must be equipped with numerous safeguards. Overload, overvoltage, and short circuit protection are standard safeguards for these products. Moreover, most models available on the market can operate in the most extreme temperatures – from -40°C to +85°C.
Sample models
MEAN WELL offers an extensive range of DIN rail mounted power supply units. They are highly efficient, have low power consumption without load, are additionally insulated between inputs and outputs, and support a wide range of input voltages.
DIN rail mounted power supply units from MEAN WELL can generate voltage of 3.3VDC, 5VDC, 12VDC, 15VDC, 24VDC, or 48VDC, depending on the model. The MEAN WELL DDR-60G-24 is a good example: it generates voltage of 24VDC and can powered with DC voltage from 9V to 36V. This wide range of input voltages makes the DDR-60G-24 perfect for all kinds of applications. This model has a power rating of 60W which means it can supply 2.5A current. It has a 91% efficiency at full load. In addition to the aforementioned safeguards, it's also protected against reverse polarity and voltage rise. Its insulation between input and output can withstand 4kV. This power supply unit does not require maintaining minimum load, and its output voltage can be adjusted within a range of +/-10%, making it adjustable to installation requirements. It complies with the following standards: IEC 62368-1, UL508, EN55032, and EN61000. It weighs only 216g.
Another example is the MEAN WELL DDR-120C-24. While this power supply unit has a continuous power rating of 120W and generates a voltage of 24V, it can also temporarily (for up to 3 seconds) supply 150% of its rated current (up to 7.5A). Furthermore, this model has a wide range of input voltages (from 33.6VDC to 67.2VDC) and offers 91% efficiency at full load. Despite high power it only weighs 510g and is just 32mm wide.
Applications
DIN rail mounted power supply units are an excellent choice for industrial applications and building automation. They are also recommended for telecommunications and various industrial networks. They are also a favourite of machine manufacturers. DIN rail mounted power supply units allow you to minimise the space occupied by control cabinets while maintaining the highest resistance, durability, and reliability of installations.