Events
2019-07-11
Criteria for choosing cable glands - threads, mounting method, diameter
Cable glands are used to safely route cables through elements of electric devices, so that none of them breaks or tangles. While choosing a cable gland it is recommended to pay special attention to many details, which, irrelevant as they may seem, determine the reliability of the application.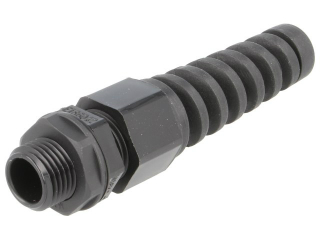 Types of cable glands
Considering the simplest and most characteristic division according to the mechanism and manner of application cable glands may be divided into screwed cable glands and plastic (rubber) cable glands. The latter are press-fitted or secured with a membrane. Screwed cable glands provide strain-relief for cables, prevent them from breaking and ensure reliable, tight mounting. This is the most relevant advantage that ensures screwed cable glands are more reliable and, as a result, more popular solution. Rubber cable glands do not relieve cables from stress and, in consequence, do not guarantee reliable fixing. They are used wherever there is no risk of pulling out the cable, e.g. due to its location or the use of some other method of securing. Low price is another significant advantage of plastic components.
Choosing a cable gland
When selecting a cable gland it is worth paying attention to the environment and working conditions of the component, since they are factors that impose certain properties which are necessary for reliable operation. They include, among others:
Cable gland body material - determines the durability, flexibility and lifetime of the element. The construction material determines the characteristic properties of the component, and often the color of the cable gland, which is particularly important for external applications where UV resistance is necessary.
Cable gland IP class - it should not be lower than the IP class of the element onto which the gland is mounted. Among the glands available at TME, the most popular components are those IP68-rated, which ensure dustproofness and resistance to continuous immersion in water.
Increased working temperature, acidic or alkaline environment, as well as external or internal use are among the most important factors taken into account when choosing the right element. Screwed cable glands require an additional selection of a suitable thread. Among TME products you can find PG threads compliant with DIN 40430 standard, traditional metric threads and inch threads according to the basic unit of measurement in the United States. PG is a standard applied mainly in electrical systems. Although it still in use and the threads still have these markings, the metric measure is used globally and is used more frequently for threaded parts. In order to choose the most suitable cable gland, before purchase, it is worth measuring the external diameter of the cable and then compare it with the cable clamping capacity of individual models. This ensures free cable passage through the element and its proper functioning. It is worth noting that e.g. glands with the same thread may have different clamping capacities.
Cable glands available at TME
Cable glands available at TME include components manufactured by, among others, Lapp Kabel, Hummel czy Helukabel. Using the detailed filters available in the search engine, you'll easily find a product tailored to the needs of your project.