Events
2019-05-20
Optimal choice of cables for power chains
To those who do not deal with industry on a daily basis it may seem like cables are only fixed, and the greatest hazard for them are conditions in the facility. However, it is true only to a certain extent, as many sites utilize power chains, i.e. devices that move cables along the designated track. This offers a new approach to the risks to which cables are subjected and the necessary properties and characteristics of cables designed for this purpose.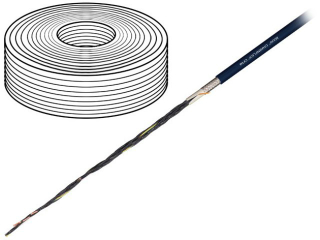 The influence of working conditions on the choice of cables
Cables used for static systems in industrial conditions must be effectively protected against all kinds of agents including in particular extreme temperatures, humidity, oils and chemicals, UV radiation or electromagnetic interference. In specific cases, where cables are installed close to machinery or workplaces of manual workers, they must also have adequate mechanical resistance in order to prevent cuts or abrasions. It happens, however, that cables do not rest still in the ducts or wiring ducts, but they are constantly moving inside power chains. This calls for additional criteria to be considered when selecting optimum cabling.
Properties of cables for power chains
Cables installed in power chains often have all the characteristics of fixed cable installations, but they also are of enhanced durability and flexibility. The introduction of a moving element requires that special attention be paid to properties such as the material of outer insulation and the minimal bending radius. Movement causes the cables to wear out much faster, and inappropriate selection may lead to abrasion, breakage or mechanical damage of the insulated conductors, which may result in production downtime, which generates additional costs. Therefore, it is important to choose cabling intended for flexible installation, with high resistance to mechanical damage. The outer sheath of this type of cables is often made of polyurethane (PUR), polyvinyl chloride (PCV) or thermoplastic elastomer (TPE), also called thermoplastic rubber. It is worth noting that when choosing cables one must not forget about certain basic criteria, such as rated voltage, type of conductor or the screen that protects the signal against electromagnetic interference caused by the the proximity of machinery and other electrical equipment. Moreover, the selection of proper cabling requires the knowledge of working characteristics of power chains that transport elements along the designated track only. On the other hand, the power chain should be adjusted to the mechanical properties and outer diameter of the cables. Those elements should match each other.
Cables for power chains offered by TME
TME offers control cables for power chains suitable for flexible installation. The main manufacturers of this type of products are such companies as Helukabel, Lapp Kabel or IGUS. Cable series are diverse and adapted to the demanding industrial working conditions. Shielded and multi-shielded cabling is available, which may also be self-extinguishing and fire retardant in fire conditions.